SOMMER DOLLY: lightweight solution for long trucks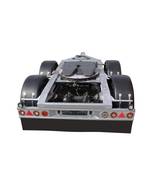 With the SOMMER Dolly the vehicle manufacturer presents a particularly high payload capacity, yet durable solution for long vehicle combinations of rigid truck and semi-trailer. SOMMER has many years of experience in the design and construction of Dollys for Scandinavia.
The SOMMER Dolly is ideal for long vehicle combinations consisting of a rigid truck and a semi-trailer as they have been in use in Scandinavia for many years and are currently being tested in Germany and other European countries. The SOMMER Dolly utilizes a lightweight construction of high-strength structural steel quality. This ensures a very low weight of approximately 2200 kg and thus a high payload. The frame is galvanized and therefore permanently protected against corrosion.
The dolly is equipped with a length-adjustable drawbar with 650 mm coupling height. The towing eye is screwed, thus allowing a simple replacement. A hinged landing leg on the drawbar ensures stability when uncoupled. The two air-suspended 9 t axles are suitable for 22.5-inch tires. Furthermore, the SOMMER Dolly has an electronic brake system EBS, as well as double pneumatic and electric connections. The turntable of the fifth wheel is lockable. On request, aluminum wheels, an aluminum rear underrun protection, aluminum compressed air tank or LED rear lights and other options are available.
The SOMMER Dolly is characterized by simple handling, ease of maintenance and very low weight. The frame is galvanized. Axles, brakes and electrics are from well-known brand manufacturers. Advantage: long life and high availability.
SOMMER has many years of experience in the design and manufacturing of dollies for long vehicle combinations. Many transport companies in Northern Europe, parcel services and certain international companies have had SOMMER Dollies successfully in use for many years.
<- Back to: Press releases
---