SOMMER TGL: new lightweight box body for van chassis with large capacity and high payload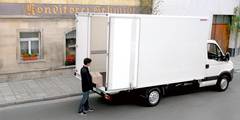 SOMMER will also début a new lightweight box body at the IAA 2012: the SOMMER TGL is designed for van chassis with a permissible gross weight from 3.5 to 7.0 tonnes. The box body is available in three different widths with an unobstructed internal width of 2,050, 2,250 or 2,500 millimetres, and in four lengths from around 3.4 metres to approx. 6 metres unobstructed. The optimised lightweight construction of plastic panels in a sandwich design facilitates a weight saving of up to 25 percent. This means: more payload, less consumption. Thus, the SOMMER TGL represents a cost-effective alternative to HGV superstructures in the 7.5 tonne class.
Despite the low tare weight, the SOMMER TGL has a robust and practical design and range of fittings. The solid steel body and the 1.5-millimetre-thick floor of multi-layer panel flooring provide sufficient load capacity. A stronger, 21-millimetre-thick floor is available on request. An 18-centimetre-high aluminium starting edge protects the side wall from damage on the inside. SOMMER also offers a reinforced front wall as an additional option. The rear doors – also a lightweight construction – are equipped with robust and extremely durable stainless steel fittings and locks. An extendable entry ladder makes it easier to access the loading area. In addition to the standard rear doors, SOMMER also offers the TGL with a roll-up door or with various tail lifts from well-known manufacturers. There is also a model with a door in the side wall.
In terms of cargo control, the SOMMER TGL comes with a row of steel lashing rails on each side as standard. Additional lashing rails in steel or aluminium or control track with rods are also offered as options. SOMMER can also supply the SOMMER TGL with the tried-and-tested SOMMER outer frame cargo control system SALS. The standard roof finish from SOMMER is translucent glass fibre reinforced plastic. This has proven to be extremely robust and ensures daylight gets into every corner. Bright interior lighting comes as standard for night deliveries.
<- Back to: Press releases
---