SOMMER SP: new platform semi-trailer with optimised outer frame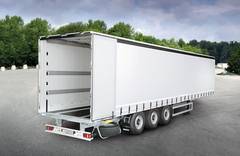 SOMMER is presenting a completely new development with the SOMMER SP platform semi-trailer. The engineers have incorporated proven elements that are highly-prized by customers in the design of this vehicle – like the robust front wall design – combining them with new solutions and developments. A solid, welded and fully galvanised ladder-type frame forms the vehicle base. The frame has not only been weight-optimised. The new, patent-pending outer frame is extremely robust and has been designed to perform diverse functions. The outer frame is made from high strength steel and has been galvanised for permanent corrosion protection. Thanks to the specially developed, profiled form, the outer frame now comes with a tread groove as standard, which accommodates the tried-and-tested SOMMER outer frame cargo control system SALS. These so-called SALS adapters are available in six different designs for tensile forces of 2.5 to 6.0 tonnes. This means that any number of lashing straps can be attached securely to the outer frame at any point along the entire length of the vehicle. And this can even be done with a full pallet width and no loss of loading space. The new outer frame is suitable for tensile forces up to 12 tonnes per metre. . Also new: in addition to the SALS groove, on each side of the vehicle there are a total of 16 heavy duty lashing hooks embedded flush in the outer frame, which can each bear 4.0 tonnes.
The newly developed outer frame is available with floor-level frame height and with a pallet limiter. But that's not all. The even outer frame is now also used for board wall vehicles and then it comes with the hinges for the board walls. The trick to this: the outer frame is made up of two parts. A line section welded to the frame with profile groove constitutes the base module. This is supplemented by various functional profiles, which are attached to the base module on the outside. Thus, a board wall or SALS profile, or pallet limiting strip is used depending on customers' requirements. Other body types, such as box bodies, can also be realised in conjunction with other supplementary modules, building on this outer frame base module.
The patented aluminium SALS outer frame is also available as an option. This also enables the side posts to be anchored to the outer frame at any point.
As before, the SOMMER SP platform semi-trailer is available with various fittings, such as for drink or paper transport, for example. The standard fittings include a 30-millimetre-thick laminated wood floor made from multi-layer panel flooring with a rough finish, a reinforced front wall, plus a sliding roof and rear doors with two internal power brace locks per door. The SOMMER SP is available with a cargo control certificate in accordance with EN 12642-XL on request.
<- Back to: Press releases
---